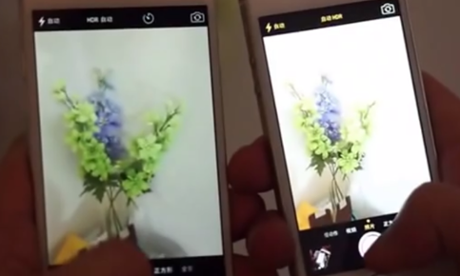 Hours before launch of new devices by Apple chief, video shows working phone with protruding camera and unreleased software. A Chinese video blogger has
shown off what appears to be a working iPhone 6
, running Apple's unreleased iOS 8 software, TouchID fingerprint system and with a significantly larger screen than 2013's iPhone 5S.
The seven-minute video, filmed in a nondescript office corridor, shows a large-screened phone - its size is difficult to gauge - being switched on and off, and unlocked using the fingerprint-driven TouchID system, introduced in 2013 on the top-end iPhone 5S, to prove that it is not a "skinned" Android phone.
The leak comes hours before the Apple chief executive, Tim Cook, is due to unveil the phone – and an expected larger 5.5in version – at an event in Cupertino, California.
The video was uploaded on Saturday 6 September, though the recording date is not given. While there have been a number of leaks of parts of the forthcoming iPhones over the summer, the video showing a functioning phone is one of the first showing it running iOS 8 – recognisable by the presence of the Health app icon in the main screen, a "predictive text" keyboard and a timer on the camera for taking selfies.
A number of manufacturers in China's Shenzhen area make good copies of iPhones but load them with "skinned" versions of Google's Android that have giveaway flaws in their icons and fonts. This model however functions smoothly, especially with the "static" fingerprint unlocking of TouchID where the finger is placed on the home button. No other manufacturer uses the same method for unlocking.
The phone in the video has more rounded edges than the iPhone 5S and a power button on the right-hand side rather than on the top of the phone, because many people won't be able to span that distance.
The camera on the back of the phone protrudes slightly, unlike previous models where the camera has been flush with the rear. That would pose problems for companies such as Olloclip that have developed camera add-ons such as fisheye lenses or telephoto lenses relying on the previous generation's dimensions.
Separately, the leak of the logic board for the phone
shows that it contains a chip from NXP
, a company known for making NFC (Near Field Communications) chips used to enable mobile payments. That strengthens the expectation that forthcoming iPhones and other mobile devices from Apple will include NFC functionality for connections and mobile shopping.
Guardian.com