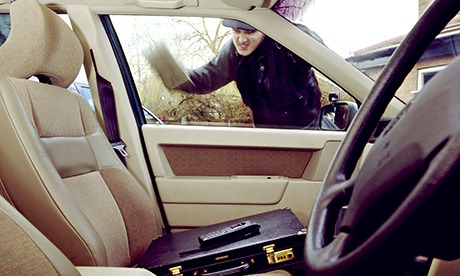 Home secretary also talks of urgent need to combat new trends in crime, such as remote car theft and smartphone theft.
The need for further spending cuts will necessitate the future integration of the
police
, fire and ambulance
emergency services
and the widespread use of body-worn cameras and smartphone apps by officers to save time, the home secretary,
Theresa May
, has forecast.
She also warns that the changing nature of
crime
means that the theft of a third of cars in London no longer actually involves the loss of the owner's keys but can be done by remote satellite control. May also highlights a new trend among organised crime gangs targeting concerts and festivals to steal
smartphones
on a massive scale so that they can be sold abroad.
She is to disclose that the government is shortly to publish rankings of which mobile phone handsets are most at risk of being targeted by thieves so that consumers can take steps to improve their security. In a speech in London on Wednesday, May is to warn that the still-large deficit and record stock of debt means that the need for police reform will not end with next year's general election.
The home secretary will tell the Reform thinktank that radical changes in the use of police time are needed if deeper savings are to be found. These might include a drastic reduction in the use of stop and search and an improvement in the care of people with mental health problems, as well as wider criminal justice reform.
But May is also intending to use the speech to discuss the changing nature of crime in England and Wales. She is to announce that she has set up a "crime and policing knowledge hub" inside the Home Office to understand why certain types of crime might be rising and why there are different crime trends in different parts of the country, with a view to developing smarter crime prevention policies.
She says that officials have been working to understand what lies behind the 62% fall in crime recorded by the official crime survey since 1995. They have identified six drivers of crime, including alcohol, drugs, opportunity, effectiveness of the criminal justice system, character and profit.
The home secretary says the most obvious and pressing example of the new opportunities for crime was that presented by new technology, and believes the need to develop responses to it is urgent.
She says this knowledge can be used to work with the motor industry to improve the resilience of new cars.
May also highlights a new trend among criminal gangs targeting concerts and festivals to steal smartphones on a massive scale so that they can be sent abroad, reactivated and sold. She says the Home Office is working with industry to find new ways of preventing the reactivation of phones overseas in order to kill this developing criminal market.
The home secretary says this type of crime prevention work is only in its infancy, but that a deeper understanding of the drivers of crime is needed if the huge demand on police time is to be reduced.
Guardian.com