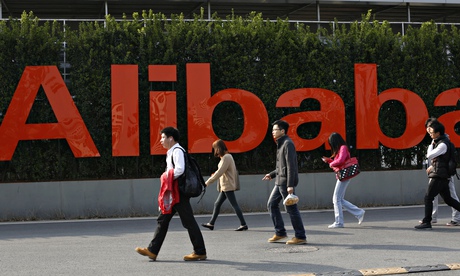 New York float of China's e-commerce powerhouse Alibaba set to dwarf rivals.
Five months ago, Su Hang left his full-time technology job to pursue his true passion – drawing cute cartoons depicting psychopaths, zombies, Batman engaged in explicit acts with the Joker, and Mao Zedong embracing a nude woman from behind.
And ever since, Su – a 27-year-old former animation student – has been living the Chinese
e-commerce
dream. In 2010, Su opened
Moji Lab
, his own shop on Taobao,
China
's biggest e-commerce bazaar. He ran the shop on nights and weekends, selling T-shirts and mouse pads. The orders kept pouring in. Recently, he hired two friends to help him, and together they earn about £2,000 a month, enough to live comfortably on the city's outskirts. "You look at these designs and you think, 'these are really weird', but everybody's lives are really weird," Su said. "So in reality, these designs are pretty normal."
Taobao's parent company Alibaba, China's biggest e-commerce website, is preparing to open on the New York stock exchange next week
in what analysts expect to be the biggest initial public offering in US history
. The company could raise between $16bn (£10bn) and $20bn and be valued at up to $200bn Facebook, in the biggest tech IPO to date, was valued at $104bn when it listed in 2012.
Alibaba's meteoric rise over the past decade has been inextricably tied to the growth of China's burgeoning middle class – Alibaba controls 80% of the country's e-commerce market and accounts for more than half of its parcel deliveries. Taobao itself has 7 million sellers and at least 500 million registered users. They
trade 50,000 items per minute, more than eBay and Amazon combined
.
Yet in recent years, Alibaba has become much more than an e-commerce platform. The company now owns at least a major stake in a payment platform (Alipay), a Google Maps-like navigation programme (AutoNavi), an online travel booking company (Taobao Travel), a chain of department stores (InTime), a music streaming app (Xiami), a cloud storage service (Kanbox),
and many others
.
Alibaba's success will be tied to the continued growth of China's economy, and by extension, the growth of its e-commerce market. Analysts are optimistic about its prospects. China has about 600 million
internet
users – just under half of its population – and the other half is rapidly signing on. "It's hard to imagine [Alibaba] being derailed," Fannin said. "Right now they're in a terrific spot."
Alibaba has made 23 major investments since 2013, totalling over $1.45bn,
according to the research firm CBInsights
. Most of them have been China-focused, to tap into what the company calls the "rising spending power of Chinese consumers",
according to its IPO prospectus
. While roughly 40% of those investments have been in e-commerce and mobile commerce, Alibaba's recent investing spree across a range of other industries has led analysts to believe that it ultimately aspires to be a highly-diversified corporate behemoth similar to Google or GE.
Sam Hamadeh,
founder of PrivCo
, a New York-based analysis firm, said: "Alibaba assiduously built its dominance by steadily acquiring complementary companies in areas such as payments, delivery logistics, and social media, to create an entirely vertically-integrated e-commerce powerhouse, the likes of which the West and the rest of the world have never seen."
Alibaba also has plans to expand abroad. It officially opened an office in San Francisco in 2013, and since then, it has invested in US tech companies, including the search engine Quixey, the ride-sharing service Lyft, and the Skype-like video messaging company
TangoMe, which it bought a 20% stake in for $215m in March
.
Alibaba's
49 year-old founder Jack Ma
–
recently crowned as the richest man in China
, with a net worth of $21.8bn – is a former English language teacher and ardent kung fu fan. He started the company in his apartment in Hangzhou in 1999 with 17 friends, envisaging an e-commerce site that could help link Chinese manufacturers with buyers overseas. Ma launched the business-to-business e-commerce website Alibaba.com that year; it became profitable three years later.
When eBay tried to enter China in 2003, it purchased Eachnet, one of Alibaba's rivals, for $150m, giving the Silicon-Valley company control over 85% of China's nascent e-commerce market. Ma launched Taobao as a way of striking back. Alibaba was clearly the underdog – Ma had only a fraction of eBay's capital. But he specially tailored the site's interface and appearance for the local market, and allowed users to sell goods for free for the first three years. EBay quickly began to lose ground; its management eventually offered Ma a partnership, which he refused.
In the US, Alibaba's listing has raised concerns about transparency. In July,
the New York Times investigated Alibaba's sale of shares in 2012 to China's sovereign wealth fund and three investment groups
– Boyu Capital, Citic Capital Holdings and CDB Capital – to raise enough money to buy back $7.6bn-worth of Yahoo's still-major stake in the company.
Many top-ranking executives at the three companies, the Times found, are sons and grandsons of top Communist party leaders.
All of them are set to reap huge profits from the upcoming IPO.
"The new revelations only demonstrate the paucity of information about existing shareholders in what is poised to be the biggest initial public offering of this year," the NY Times said.
Alibaba responded by saying that the company has not relied on political connections for its success.
"To those outsiders who stress companies' various 'backgrounds', we didn't have them before, we don't have them now, and in the future we won't need them!," it said in a statement.
Within China, Alibaba is simply a fact of life. Dai Xu, a 30 year-old office worker in Beijing, said that she buys items on Taobao about once a week – far less frequently than her co-workers. Recently, she has purchased clothes, snacks, a pair of bowling shoes, a massage machine, and a bottle of Tibetan liquor for her uncle.
"I buy a lot of things on Taobao that I don't need," she said. "They make it so easy to shop without thinking."
Guardian.com