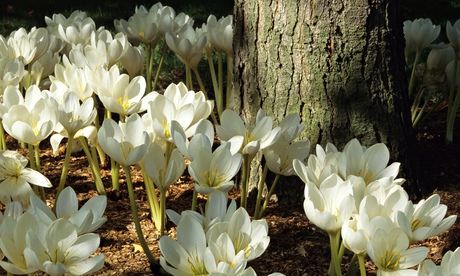 Bulbs bring a welcome pop of colour and freshness to your autumn beds. Just make sure you choose carefully.
I'm ordering my autumn bulbs. New tulips will join old favourites such as "Recreado" and "Jacqueline", as well as those I've left in the ground to see if they will return for a second year. I am keen to find more varieties that overcome slugs and damp conditions.
Bulbs are fantastic value for colour, but it's important to know exactly how to use them. With this in mind I'm bulking up on camassia and reliable narcissus for the banks behind the house. This is an area I never intend to "garden". It will be left wild after the bulbs have done their bit, and cut once only in August.
I am still smarting from a mistake I made last year. My rule is that I trial anything untested in pots so that it can be observed before being committed to the ground. Once planted in grass, bulbs are there to stay unless you are prepared to wade into new growth and undo your good work.
I took a risk, planting straight into the ground. A couple of new varieties proved utterly wrong. Naturalised bulbs have to feel like part of the meadow, with fine leaves and flowers. Narcissus jonquilla, with flowers the size and colour of buttercups, Cyclamineus narcissus, such as "Jenny" and "Jack Snipe" and the later-flowering N poeticus, all work.
Ordering bulbs before they come into the nurseries will give you the biggest choice. I prefer to get quantity of a few things rather than a peppering of several. My list this year also includes bulbs that perform in the autumn. Colchicum, autumn-flowering crocus, sternbergia, nerine, cyclamen and amaryllis all disappear in the dry months. Where spring bulbs are special for breaking a long period of inactivity, the autumn varieties provide a renewed freshness once the garden is looking tired.
Timing is important. As soon as I cut the grassy banks behind the house I will work in the bulbs that have their season once the weather turns. I am hoping to get the autumn-lowering Crocus speciosus to naturalise. It is a delightful surprise to come across its violet flowers spearing the fresh autumn sward. I will lace them through with Colchicum speciosum"Album".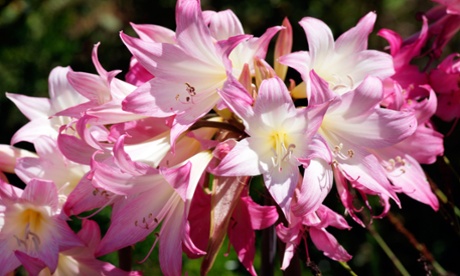 Autumn-flowering varieties need careful positioning because the garden is "up" and grown at this time of year. Mid and back of the border, and under the skirts of shrubs should be saved for spring bulbs. The late flowerers need to be in cherished spots at the front of the border. Here, among low-growing Aster divaricatus and wild strawberry, I'll add Colchicum "Rosy Dawn" and "The Giant".
A hot spot against a warm wall is worth saving for a clump of Amaryllis belladonna. Their long stems, which rise purple flushed before the leaves, give them their common name of Naked Ladies. They take a couple of years ot settle into a well-drained position. But if they decide they like you and flower, they are easily as eye-catching as their real-life Add sharp grit to heavy soil if you want to grow counterparts.
Get growing
Add sharp grit to heavy soil if you want to grow Amaryllis belladonnasuccessfully. Plant the bulbs just below the surface and protect with bracken or straw for the first winter.
The guardian.com