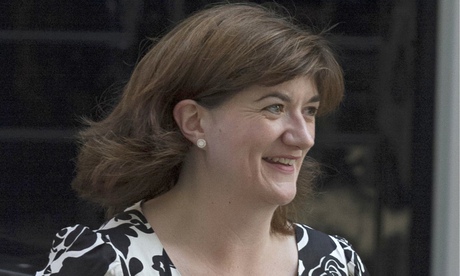 Local authorities will be empowered to cut off state funding to any provider of early years education that falls foul of new rules. Parents will have government funding for
childcare
cut off if their
children
's nannies or nurseries fail to "actively promote fundamental British values", including democracy and liberty, under measures announced by the Department for Education.
Nicky Morgan
, the education secretary, said the move was designed to protect young children from extremist views. But the announcement was greeted with dismay by childcare practitioners and experts. "This is a surprising issue for the education secretary to pick for her first intervention in early years policy given that there is no evidence as far as I am aware of extremist values being promoted in nurseries," said Beatrice Merrick, the chief executive of the
British Association for Early Childhood Education
.
"The idea of distinctive British values is quite elusive for any age group and it would be hard to claim that there is a British monopoly on any of the values we might be talking about. Using such language is dangerous in implying we are somehow morally superior to other nations and cultures. Surely that isn't the message we want to teach our youngest children?"
Neil Leitch, the chief executive of the Pre‑school Learning Alliance, which represents 14,000 childcare providers in England, said his organisation welcomed the spirit of the government's announcement but questioned the usefulness for young children.
Practitioners are likely to struggle to think of anything that needs to be taught to young children to achieve British values specifically – their focus will always be on providing a rich and positive experience in all areas. Life values are more important to develop for a two-year-old, not a limited view of culture and life."
The DfE's statement said
early years education
providers "will be expected to teach children about fundamental British values in an age-appropriate way. For children in the early years, this will be about learning right from wrong, learning to take turns and share, and challenging negative attitudes and stereotypes."
But the
new regulations are more specific
, saying local authorities will be empowered to cut off state funding – including the 15 hours of childcare funding a week for two- to four-year-olds – to any provider that "does not actively promote the fundamental British values of democracy, the rule of law, individual liberty and mutual respect and tolerance of those with different faiths and beliefs".
According to the DfE, Ofsted will be required to inspect early years providers against the new criteria. The regulations will bring early years education into line with similar changes to primary and secondary schools, introduced by Morgan's predecessor Michael Gove after the Trojan Horse affair, in which Islamist infiltration was alleged in a group of schools in Birmingham.
The regulations allow local authorities to cut off funds to any provider that "promotes, as evidence-based, views and theories which are contrary to established scientific or historical evidence and explanations", such as creationism. A DfE spokesperson said religious education would still be allowed, so long as it was not presented as scientific fact.
Andrew Copson, the chief executive of the British Humanist Association, said: "It is vital that every young person receives a broad and balanced education, including teaching evolution as the only evidence-based view of how life came to be."
The government funds 15 hours of childcare a week for all three- and four-year-olds, and for two-year-olds from deprived households. The 15 hours can be used at schools with nursery places, or to pay for places at private nurseries or for Ofsted-registered providers such as nannies or au pairs.
Morgan said: "One of the most important roles of the education system is that it should prepare young people for life in modern Britain. I am clear that public money should not be used to support any school or early years provider that does not support this aim because it seeks to promote ideas and teachings than run counter to fundamental British values."
"Asking Ofsted to inspect how well nurseries are teaching 'fundamental British values' does not appear to offer anything new for children and will concern all those who seek to promote community engagement," Courtney said.
The guardian.com