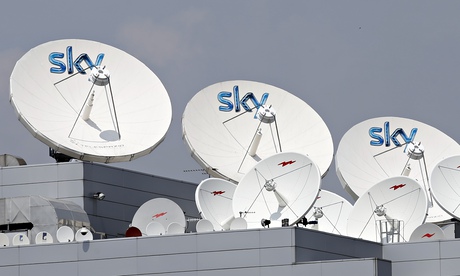 The £10.99 option offered to consumers until 27 November via BSkyB's Now TV internet service, rising to £14.99.
BSkyB
is to extend its radical strategy to allow customers to watch its sports channels without a Sky TV subscription by launching a weekly pay-as-you go tariff for £10.99.
The move marks a further loosening of the satellite broadcaster's two-decade strategy of using prime sports such as Premier League football to convince viewers to sign up for monthly TV packages of at least £46. BSkyB,
which first began dabbling with the concept launching a £9.99 day pass 18 months ago
, is making the weekly pass available via its Now TV
internet
service.
From Thursday, viewers will be able to access Sky's seven sports channels for £10.99 a week; from 27 November this will rise to £14.99. The day pass will also be reduced to £6.99 for a limited promotional period. Now TV was launched two years ago in a bid to attract budget conscious viewers as the pool of those willing to sign up to its traditional pricier monthly packages has dwindled to a trickle.
The service, which is available on more than 50 devices including smartphones, tablets and games consoles, targets the 11m Freeview households which have internet connections and might be lured into dipping in and out of pay-TV content.
"We know our sports fans are hungry for more flexibility in how they watch sports and the new Sky Sports Week Pass offers just that," said Gidon Katz, director of Now TV. "This is a great time to be giving sports fans even more choice. Now fans simply have to decide if they want to snack on a day pass or feast on a week's sport".
Now TV also offers monthly entertainment and film packages, at £4.99 and £8.99, a response to the challenge of new digital rivals such as Netflix and Amazon which charge about £7. Richard Broughton, director of broadband at research company IHS, believes the new offers are recognition that Now TV is too pricey.
"The main thing Sky is recognising here is that it is facing a bit of an uphill challenge getting consumers to buy into Now TV," he said. "They have pushed Now TV as the more premium alternative to Netflix and Amazon Prime instant iideo, but it has not really been attractive enough to compete".
BSkyB refuses to say how many paying users Now TV has attracted in its quarterly updates, instead reporting an overall figure that includes new subscribers to its traditional monthly pay-TV packages. There were fears that the cheaper Now TV options might cannibalise viewers from its higher priced monthly packages,
an early and now seemingly unfounded concern shared by Jeremy Darroch
, the BSkyB chief executive.
Over the past year, BSkyB added 264,000 TV customers, its best result since 2010, fuelled by the cheaper internet TV sign ups to Now TV. BSkyB says that the number of Now TV customers has doubled between the first half of this year and the last six months of 2013, although the company will not give exact figures.
The guardian.com