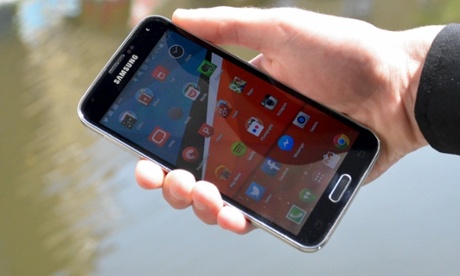 Kantar data shows Apple sales share falling in three months to May, as iPhone owners abandon platform for 5.5in Samsung flagship
Apple users are losing patience waiting for a larger-screened iPhone. New data showing that 26% of British buyers of Samsung's Galaxy S5 in the three months to the end of May switched from the iPhone - compared to 12% the year before, according to Kantar ComTech's Worldpanel.
Though the effect was not as marked across Europe, Kantar's data still shows that 17% of Galaxy S5 buyers there had switched from the iPhone. In the US, the figure was just 8% - indicating, said Kantar, higher brand loyalty to Apple in its home country.
With larger-screened iPhones not expected before September, Apple may see more defections as Samsung presses its advantage. Samsung has begun cutting the price of the Galaxy S5, only two months into its launch. But Samsung's satisfaction in capturing switchers may be tempered by the fact that its Galaxy S5 was only the third best-selling phone in the UK – behind Apple's iPhone 5S and 5C.
The month of May included the first full month of sales for Samsung's new flagship phone, which has a 5.5in screen - substantially larger than the 3.5in screen of the iPhone 4 and 4S, and the 4in screen of the iPhone 5 and successors.
Think big
Apple's need for a larger-screened phone was
indicated as a perceived weakness by an internal sales presentation
unveiled in its recent trial with Samsung in the US. That dated to April 2013 - since when the company has been working on designing the phones due for release this year.
A growing amount of claimed leaks from Apple's supply chain, as well as new software functionality included in its forthcoming iOS 8 release,
suggest that the iPhone maker will be releasing at least one and possibly two larger-screened iPhones in the autumn
, when it usually releases new phone models.
Overall,
Kantar's data
showed a surge in the share of sales for handsets running Google's Android for the three months to the end of May 2014. In the US, its share of sales rose to 61.9%, the first time they have been above 60% since August 2012. Apple's share of sales was 32.5%, its lowest since October 2011 when the iPhone 4S was launched.
In Germany, Android sales passed 80%, for the first time; iPhone sales were 12.1%, the smallest since September. Windows Phone sales fell, to 5.9% of sales.
For the "EU5" - the UK, France, Germany, Italy and Spain - Android's sales share hit a new peak of 73.3%, while Apple's dropped to 16.6%, its lowest since October. Microsoft's Windows Phone saw no progress though, falling to 8.1%, its lowest since June 2013. Even Japan, which has seen enthusiastic adoption of the iPhone, saw Apple's share fall to 51.7%, its lowest in seven months, while Android sales rose to 47%.
Kantar's figures do not however give the relative sizes of sales between different periods, making comparisons difficult. Typically, the fourth quarter of the year sees the largest level of sales, while the second quarter is the second-largest - about 70% as large in sales terms as the fourth quarter.
The saturated nature of mature markets also means it is difficult to know how ownership patterns are changing. However, Kantar collects both sales data from outlets and panel information from phone owners to see how ownership patterns are changing.
Samsung's strengths under stress
In the US, the Galaxy S5 was the second best-selling phone, just behind the iPhone 5S, Kantar said. "However, at a total brand level Samsung claimed the top spot with 36.8% of sales versus 32.5% for Apple over the past three months," said Dominic Sunnebo, Kantar's head of research. "Apple loyalty is high in the US, with former iPhone owners making up just 8% of Galaxy S5 sales. The majority of those switching to Samsung [in the US] were LG and HTC users." In Europe, 58% of Galaxy S5 buyers were existing Samsung owners - suggesting that the remaining 25% were either switching from other smartphone brands, or upgrading from feature phones.
Separately, other data has suggested that the Galaxy S5 is not producing the sales boom that the South Korean company might have hoped for, with market sampling data suggesting that its total smartphone sales for the three months to the end of June are static compared than the same period in 2013. Samsung Electronics chief financial officer Lee Sang-hoon said last week that earnings were
expected
to be "not that good". Analysts have begun
suggesting
the division's earnings, to be announced in mid-July, could be around $8.2bn - compared to $10.2bn in the second quarter of 2013, and that smartphone sales could be around 79m units, compared to 73m units a year before.