In the wake of face-off, the university campus continued to witness chaos and confusion.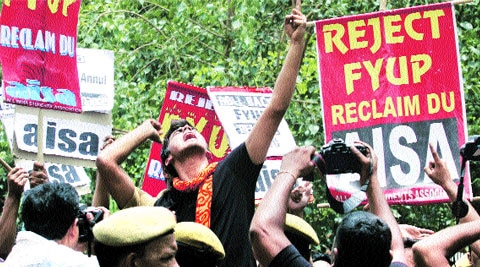 In a yet another significant development over the ongoing face off between Delhi University and University Grant Commission over Four-Year Undergraduate Programme (FYUP), DU Vice Chancellor Dinesh Singh resigned on Tuesday afternoon.
The resignation came amid widespread protests by the concerned students and teachers over the FYUP logjam.
Meanwhile, as the cloud of uncertainty loomed over the FYUP, the Supreme Court refused to stay the notification by the UGC, scrapping the four-year undergraduate programme with immediate effect.
Earlier in the day, a group of teachers in favour of the move on Tuesday went on a 24-hour long hunger strike to protest against the University Grants Commission order for its roll back.
Meanwhile, the Supreme Court has refused to intervene in the row, directing an ex-DUTA president to approach the Delhi High Court.
The university campus on Tuesday continued to witness protests, scuffles, chaos and confusion with students expressing their disapproval and worry over the ongoing face-off between the UGC and the Delhi University administration.
The teachers, under the aegis of Academics for Action and Development (AAD), alleged that the UGC's directive to DU was an "assault" on its autonomy. "It is an attack on DU's academic freedom and autonomy by the UGC on the behest of Ministry of HRD and this hunger strike is to resist the attack on academic freedom of higher education institutions," S K Mishra, AAD's Press Secretary and Professor at DU, said.
According to reports, a section of teachers have gone a step further and challenged the UGC order in the court.
On Monday, the outfit's president Aditya Narayan Mishra had yesterday through the media made an appeal to Prime Minister Narendra Modi to intervene in the matter. AAD said it will continue its fight against the UGC order.
Notably, the government has already made it clear that it will not intervene in the matter and left it to UGC and DU to resolve the issue between themselves. The HRD Minister Smriti Irani distanced herself from the controversy, saying: "I am not in the liberty to speak on the FYUP tussle."
A day after DU colleges announced that the admission process has been deferred owing to "conflicting guidelines" from the university administration and the UGC, several applicants on Tuesday appeared confused over the fate of their admissions. On the other hand, the students who had enrolled into the course in its inaugural year too seemed clueless as to what the future holds for them.
Students who took admission into the course as it was launched last year are concerned over the fate of their "experimental batch" in the wake of the stand-off between UGC and DU.